VNG Testing, Premium VNG Diagnostics
VNG Testing Equipment: Secure Health, Inc. offers vestibular testing equipment and the latest Difra premium VNG equipment and  (videonystagmography) technology to find the affected component of balance disorders. Many such disorders can be treated and corrected within weeks.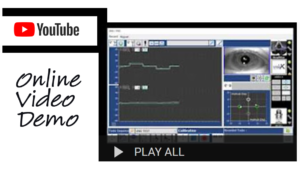 HeadStar and NysStar VNG Systems
Objectively identify and assess VESTIBULAR problems including, Benign Paroxysmal Positional Vertigo (BPPV), traumatic brain injury (TBI), central nervous system injuries and other peripheral vestibular dysfunctions.
--Videonystagmography (VNG) testing can tell you whether balance disorders are central nervous system (CNS) or labyrinth-related
--HeadStar™ and NysStar™ VNG evaluates eye  movements as they follow a moving target, with  the head positioned in different directions
--HeadStar™ and NysStar™ VNG uses caloric tests  to evaluate inner ear responses to warm and cold air. Changes in temperature stimulate inner ear and cause eye movements. VNG testing helps detect if one ear  is more affected than the other, which can cause  balance problems
--HeadStar™ and NysStar™ VNG uses active head  rotation that tests the superior and posterior  semi-circular canals
--VNG testing is non-invasive and requires less than  an hour to complete the series of tests
--HeadStar™ and NysStar™ VNG tests are  reimbursable by major insurance carriers, Medicare and Medicaid
About Secure Health, Inc.
Secure Health, Inc. is the exclusive US agent for Difra Instrumentation, a leading global manufacturer of diagnostic balance disorder technology for more than 48 years.
We work with doctors and health care professionals who are dedicated to preventing falls attributed to balance disorders and our products and programs are designed to identify, diagnose and treat patients with balance disorders or are at risk of falling or who have suffered injuries from falls caused by various medical conditions.  [MORE]
Premium Vestibular Balance Assessment
Secure Health, Inc. has assembled the finest vestibular balance assessment products in the world. Objectively assess and treat vestibular and balance disorders with Secure Health's Better Balance™ technology, comprised of proven videonystagmography systems. An essential component of our Better Balance™ technology is premium VNG diagnostic equipment manufactured by Difra Instrumentation.
Designed for an accurate diagnosis, we offer three types of caloric irrigators: air, water-cooled air and water.  [MORE]