Premium VNG Vestibular Balance Assessment
Secure Health, Inc. has assembled the finest vestibular balance assessment products in the world. Objectively assess and treat vestibular and balance disorders with Secure Health's Better Balance™ technology, comprised of proven videonystagmography systems. An essential component of our Better Balance™ technology is premium VNG diagnostic equipment manufactured by Difra Instrumentation.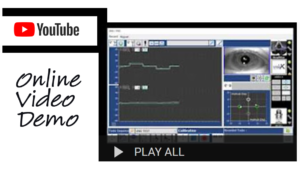 Exclusive US Agent for Difra Instrumentation
Secure Health, Inc. is the exclusive US agent for Difra Instrumentation, a leading global manufacturer of diagnostic balance disorder technology for more than 48 years.
We work with doctors and health care professionals who are dedicated to preventing falls attributed to balance disorders and our products and programs are designed to identify, diagnose and treat patients with balance disorders or are at risk of falling or who have suffered injuries from falls caused by various medical conditions.
Well known videonystagmography global and US manufacturers
Our videonystagmography VNG balance assessment equipment is manufactured by well-known companies with high standards of quality. Secure Health, Inc. is the exclusive US agent for products manufactured by Difra Instrumentation. Difra has a 40 year history of "designing and manufacturing equipment across the whole vestibular field. Our products range from small devices for private use to full systems for clinical use and for research. With more than 48 years of experience, Difra is now one of the world leaders in diagnostic balance disorders."
Daniel Scherer
CEO of Secure Health, Inc.
Daniel Scherer, Founder and CEO of Secure Health, Inc. and

Founder and Managing Director of Better Balance Fall Prevention and Wellness Society, LLC. has more than 20 years' experience in the medical and health care industry. Dan has a proven ability to innovate and develop new markets for his companies and clients. He is committed to finding cutting edge technology and treatment programs for the prevention of falls and is an advocate for educating both the health care community and consumers. In 2009, Dan founded the Better Balance Society, which provides a truly meaningful education for health care professionals who treat balance disorders and offers the first and only AMA-accredited Category One CME course on vestibular and balance disorders, "Neurovestibular Sciences: the Study of Balance Medicine." Please contact Dan if you would like to discuss educational and business development.
Lana Scherer, Promotions and Patient Development
Lana Scherer is responsible for marketing and promotions for Secure Health, Inc. and has 20+ years' experience in the publishing and health care industry. Lana and Dan Scherer founded InBusiness Media Group in 2002 as a sister company to Secure Health, to provide cost effective marketing and web development for health care professionals.
Lana will work with you to promote your balance practice, including creating semi-custom printed literature with your logo and contact information. Printed collateral includes colorful tri-fold brochures, rack cards, banners, posters and direct mail campaigns. Please contact us for more information.
Meet our Authorized Distributors
Secure Health, Inc.'s independent distributors are knowledgeable and experienced with years of experience in the medical diagnostic industry. For more information, please contact us
Our Goal is Your Success
First and most important is the amount of training and support you will receive with your purchase.
You may receive two full days of training at your facility when the system is installed, please refer to your quote for additional details. Depending on the purchased product, one of our skilled technicians may come to your office for two days of of set-up and training for all components purchased or we may provide online training. Due to the current Covid-19 pandemic, it could affect in-person training.
We are the ONLY company affiliated with the Better Balance Fall Prevention and Wellness Society's CME programs for neurovestibular disorders.
Our support team is on call during regular business hours to answer all your questions. That is why we give you our cell phone numbers and not just our office numbers. We are committed to help you correct any difficulties you may be experiencing while the patient is still in your facility so testing can be completed.
Customer service hardware allows us, with your permission, to remotely access your software to immediately diagnose and possibly repair computer problems quickly and efficiently.
Better Balance Analyzer Platform Objectively Tests Fall Risk
Create a clear pathway to medical necessity for VNG studies using the Better Balance Analyzer platform. Remove subjectivity from your balance evaluations using the Better Balance Analyzer platform for verifiable and consistent results.
--Evaluate every patient over age 55 as part of a comprehensive falls prevention program
--Excellent tool to assess fall risk
--Quick and easy test that takes just 5 to 10 minutes to complete
--Portable, easy to move to off site locations for screenings
--Valuable community service for seniors, nursing homes and more
Better Balance videonystagmography patient development programs are available
Chances are great that thousands of people in your community suffer from sort of balance disorder. Chances are even greater these people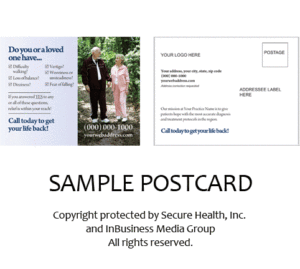 have no idea where or how to be effectively treated and gain back their quality of life. Secure Health's world-class semi custom marketing promotional collateral creates public awareness and educates people looking for relief. Most importantly, the marketing creates hope and a clinic to go to for safe, effective treatment. Let your community know you effectively, safely and painlessly treat balance disorders and they will actively seek your services. For examples of our marketing program, please click here. Anyone is welcome to purchase the marketing materials--please call Lana Scherer at 260-418-6835 for more information and/or a price quote.
When buying Premium Difra VNG equipment, you don't just buy the equipment, you receive a total package.
Our competitors will sell you equipment, but ask yourself, "What happens after the sale?" Do the competitors really care if you are successful? We do and we back it up with unparalleled, ongoing customer support, the best balance diagnosis and rehab system in the business with our Better Balance Fall Prevention and Wellness program and world-class marketing.
"Our goal is your success."
If you would like to see a full demonstration of our premium Difra videonystagmography VNG diagnostic equipment, please contact me for a live online demonstration.
If I can be of any further assistance please feel free to call me. I can be reached anytime on my cell phone: 260-804-4041.
--Daniel B. Scherer
CEO, Secure Health, Inc.
Secure Health, Inc. is the exclusive US agent for Difra Instrumentation, a world's leading manufacturer of diagnostic balance disorder technology for more than 48 years.